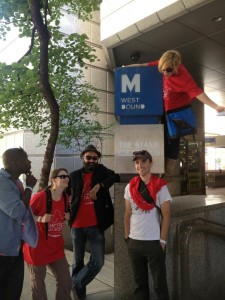 In our ongoing effort to encourage and support transit in the region, CMT partners with local organizations also working to support the region's transit system.  CMT co-sponsored St. Louis Public Radio's MetroQuest 2013, a scavenger hunt, pub crawl, and trivia contest that utilized public transit and participant's own two feet to explore the city and all that downtown St. Louis has to offer.
Participants were given T-Shirts, trivia questions, photo challenges, a downtown map (proudly displaying CMT's logo), and Metro Tickets for their afternoon quest.  Lisa Cagle, Heather Benz, Justin Chick (Young Transit Professional Advisory Committee), Rajeev Chopra, Josh Walehwa, and Lenora Fisher represented CMT.  All had a blast answering trivia questions and visiting the following venues who also participated in Saturday's event.
Art Saint Louis
Bridge Tap House & Wine Bar
The Central Library
Copia Restaurant & Wine Garden
The Dubliner
Flamingo Bowl
Joe's Chili Bowl at the Terrace View
Mango
The Over/Under Bar & Grill
We hope you'll consider getting involved with CMT by joining CMT and by participating in events in the future.  Stay tuned by liking us on Facebook, by becoming a CMT member, or by being in touch (info@cmt-stl.org) and informing us of your interest.  CMT is proud to encourage transit ridership in the St. Louis region and we hope you too will actively support transit by riding the system and by and joining our efforts now and in the future.