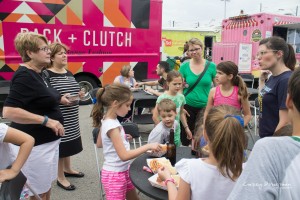 What better way to show potential development in an area around transit than to actually have that development "pop-up" for all to see.  That was just CMT's idea when it launched the CMT Metro Market in 2014 at the Shrewsbury-Lansdowne MetroLink Station, and now CMT is bringing it back for Park(ing) Day in  Downtown St. Louis on September 19. CMT will be talking transit, Try & Ride, and Guaranteed Ride Home this
Friday, September 19 from 8:00 am – 5:00 pm at 8th Street and Olive
in a parking space converted to a CMT Metro Mini Market, and we hope you'll stop by.
Dining? Shopping? Entertainment? A Sea of Cars?  What kind of development would you like to see around the St. Louis region's light rail system?  To model Transit Oriented Development on a mini scale and to celebrate companies downtown that are benefiting from their proximity to transit, we're going to hold our mini market. Be sure to stop by and depending on the time and how long supplies last, you'll be able to sample yummy breakfast sandwiches from Snarfs, bottles of Pure Leaf Tea, Pickles Deli Sandwiches, and more.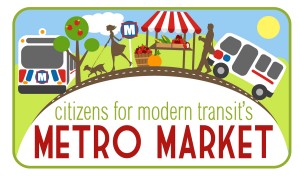 "I want to see grocery stores, shopping, restaurants, entertainment options — at as many stations as possible! I am a grad student at Washington University without a car, and I rely on transit every day to get around. The more we can build up around our MetroLink stations -the more opportunities for people to use transit, to build synergy between stations and neighborhoods and the more chances to gather support for more transit in St. Louis," said Lisa Cagle, a St. Louis City resident and current user of the #70 MetroBus and the train almost every day.If you come toward the end of the day, you'll also be able to pick up some natural, wild growing MO plants courtesy of Gateway Greening, as well as some locally sourced vegetables.We hope to see you there!