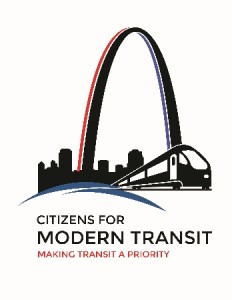 Citizens for Modern Transit (CMT)  is looking for an individual to fill our Office Administrator position. The candidate must be able to meet requirements and fulfill the necessary duties listed below.  CMT is the regional transit advocacy organization leading efforts for an integrated, affordable, and convenient public transportation system with light rail expansion as the critical component that will drive economic growth to improve quality of life in the St. Louis region.
Requirements:
Interact with CMT members, board, program participants and constituents in a professional manner
Knowledge of Microsoft Word and Excel; database and WordPress/website experience helpful
Applicant must be able to work from 9:00 am to 4:00 pm, minimum four days per week
Duties:
Greet anyone who enters CMT
Manage the front office
Manage CMT membership
Answer phones and email on general information about CMT
Keep office area clean, organized, and safe
Assist with CMT programs and events
Responsible for sending and receiving mail/email
Order supplies
Complete additional tasks as assigned
Application Process:
Please submit a cover letter and resume to kcella@cmt-stl.org no later than Feb. 15, 2017. Equal opportunity employer. Hourly rate commensurate with experience.