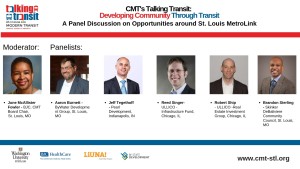 A safe, reliable public transit system is credited with much more than simply getting people to and from destinations. It plays a key role in stimulating economic development and attracting and retaining business. To further reinforce the impact transit has on our region, CMT brought together local and national experts  to discuss the opportunity that exists for development near transit in the St. Louis market on June 21 for their Talking Transit Series: Developing Through  Transit – A Panel Discussion at Innovation Hall at Cortex.
The event included a panel featuring Aaron Burnett, president of the ByWater Development Group in St. Louis, Mo.; Jeff Tegethoff, principal of Pearl Development in Indianapolis, Ind.; Reed Singer, director of infrastructure for ULLICO Infrastructure Fund in Chicago, Ill.; Robert Ship, Midwest regional vice president for ULLICO Real Estate Investment Group in Chicago, Ill.; and June McAllister Fowler, CMT Board Chair and  Senior Vice President, Communications, Marketing & Public Affairs for BJC HealthCare, as moderator.

"Developers understand the value of public transit and the economic benefit it brings to their projects, often choosing to build, locate and expand in communities with adequate transit access," commented Kimberly Cella, executive director of Citizens for Modern Transit. "It was a priority for the Cortex Innovative Community, which was one of several community partners that helped secure the needed financing to make the Cortex Metrolink Station a reality. We are excited to host this discussion and learn more about other local opportunities."
"This topic is so important to organization's like BJC HealthCare as we strive to make a difference not only in the lives of our patients, employees and colleagues but the in communities we serve.  World class healthcare accessibility is key to our success, and having access to it via transit is one of our top priorities," said McAllister Fowler in her opening remarks.
Developers Burnett and Tegethoff outlined why access to transit is key to the success of their developments.  Southwestern Illinois Development Authority (SWIDA), in partnership with Bywater Development Group and Bi-State Development (BSD), recently opened a new, $10.5 million development senior housing development adjacent to the Swansea MetroLink Station in Swansea, Ill. There is currently a waiting list for the development.  Tegethoff's Pearl Development is focused on a development on the current site of the Forest Park MetroLink park-ride lot on the west side of DeBaliviere as well as the adjacent strip shopping center.
Brandon Sterling, executive director of Skinker DeBaliviere Community Council, weighed in on the importance of development around transit, "For over five decades, Skinker DeBaliviere Community Council has prided itself in seeking out innovative ways to create and sustain strong community. For Skinker DeBaliviere, Transit Oriented Development projects offer a promise – a new way to promote walkable, dense neighborhoods, attract new housing development and add retail space for needed goods and services, while reducing dependence on cars."
Audience participants engaged with several questions, including how the St. Louis area could make changes to be a  more competitive market for transit oriented development. The panelist agreed that the area currently has a lot of support from the local government agencies, and getting key stakeholders on board is the most important part of getting a project started.  Incentives for building can be more enticing than demand, as anchors and development drive traffic and demand to an area.
To view the presentation by Bywater Development Group, please click here.