CMT Kicks Off its Spring 2014 Ten Toes Express Session with an African American Heritage Tour of Downtown St. Louis led by the National Park Service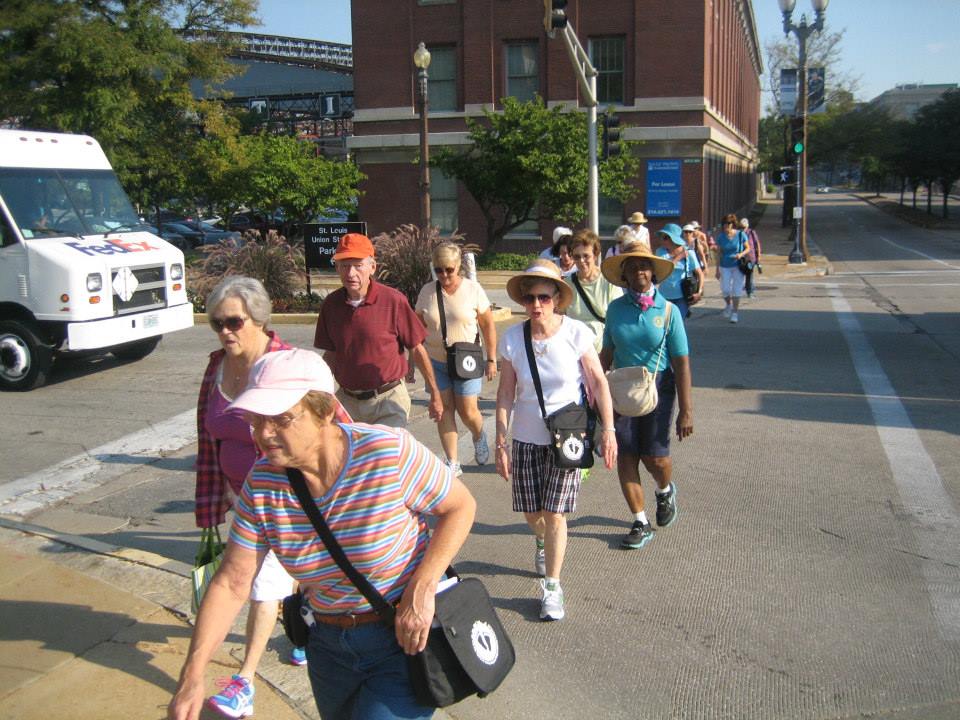 Citizens for Modern Transit's (CMT) successful Ten Toe Express program, with over 7,000 participants, many over the age of 60, will kickoff its spring 2014 session on April 3 with an African American Heritage Tour of Downtown St. Louis, led by the National Park Service.  We have well over 300 registrants, 50 new participants, and the registrations just keep coming.  It's going to be a record year for exercise, health, transit ridership, and city exploration on the Ten Toe Express.  St. Louisans can register for the Ten Toe Express Program online  or by calling 314-231-7272 to learn more.
The Ten Toe Express program is designed to help area residents increase their independence, accessibility to places and overall health by learning how to utilize MetroBus routes and the MetroLink alignment when heading to a countless number of St. Louis area destinations. Online tools and the ability to join as many as 60 different guided walk tours during the 12 week spring session make it easy for individuals to familiarize themselves with the process. Ten Toe Walk Maps with very detailed directions to as many as 100 different regional destinations are available for those who prefer self-guided tours.
"We regularly receive letters, emails and phone calls from Ten Toe participants letting us know how positively the program has impacted them," commented Kim Cella, executive director of Citizens for Modern Transit. "Some who have never taken the bus or MetroLink before are now independently using public transit to get to doctor appointments, the grocery store and to run errands. Others have lost a lot of weight because they are walking more and eating healthier. The program is having a great social influence as well. Friendships have been made. Independence levels have increased. Participants are having a good time. And, we are excited by the success of a newer walking group that meets at the Rock Road Station, coordinated in partnership with Beyond Housing."
Take it from Ten Toe Participant Ann LaBeau, "The 10 Toes program is one that has taught me a lot about the living in St. Louis and what it has to offer. Although I grew up in the county, a visit to the city was rare. Thanks to Mary Fran [Forest Park Walk Leader], I have experienced new areas and have become quite smitten with the city."
Ann further explains, "I joined the group trying to prepare and become comfortable with using public transportation knowing that eventually I would have to give up driving. Now I am capable of using the metro transit and I am happy knowing that when the time comes to give up my keys there is another choice for me."
Spring walking groups will gather weekly at the Brentwood, Forest Park, Belleville, North Hanley, Rock Road and Shrewsbury MetroLink stations. Check online for walk schedules and details at http://tentoes.cmt-stl.org/Home/tabid/59/Default.aspx.
The Spring 2014 Ten Toes Express Kick Off Walk will be an African-American Heritage Tour of Downtown St. Louis on Thursday, April 3 at 9:00 am.  CMT and Ten Toe Walkers will meet at the 8th & Pine MetroLink Station for a 2.5 mile walk that will take about 3 hours at a moderate pace. 
The walk was developed for the National Park Service by Dr. John Wright, author of the book Discovering African American St. Louis and participants will learn about the city from the African American perspective throughout history.  Dr. Wright developed the walking tours around the important events and personalities surrounding downtown St. Louis.  A guide from the National Park  Service will lead the tour, stopping at points pertinent to St. Louis history.  Destinations on the walk will include the city jail, the first high school for colored students, and Harriet Scott's death site.  Participants have the option of returning by bus or foot.
Participants are required to be a registered Ten Toe Participant to attend the walk and Ten Toe Walkers should RSVP by writing info@cmt-stl.org or calling CMT at 314-231-7272.
Re-Registrants can register online for the
Spring Session at https://cmt-stl.org/programs/ten-toes-express/.