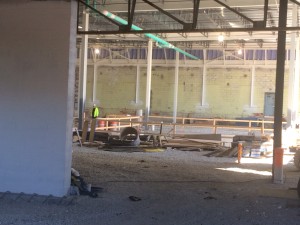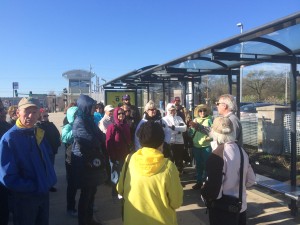 CMT kicked off 10 years of the Ten Toe Express in St. Louis with a sold out crowd for a tour of the future Loop Trolley alignment.  Chris Poehler, project manager for the Loop Transportation Development District, led the tour from the Forest Park MetroLink Station along the Loop Trolley alignment.  Along the way, Poehler pointed out trolley stops including Crossroads Academy on DeBaliviere, the Loop Trolley Barn on Delmar, the stop in front of the historic Wabash Station and the stop at the Pageant on Delmar.
Construction on the project is about 75 percent complete according to Poehler. Testing should begin later this year, with opening at the end of this year or early next year.  There will be five vehicles on the alignment – 2 from Portland and three from Seattle. The Loop Trolley Company, a non-profit organization, will run the trolley system. They are currently in the process of hiring a general manager.   Once the general manager is on board, the final details for the project will be decided included fare structure.
"A very informative tour. Glad I could be a part of it," said Shirley Walz, CMT Ten Toe participant.
The trolley will run from 11 a.m. to 6 p.m. Monday through Thursday; 11 a.m. to 12 midnight Friday and Saturday. More info is available at www.looptrolley.org.
"What an exciting tour to kick off ten years of the Ten Toe Express in St. Louis. Since its inception, we have had more than 8,000 St. Louisans participate in our program that links transit with using your own ten toes to access the St. Louis region.   What is even better, many of our walkers continue to return each year for the spring and fall sessions due in large part to our PRICELESS volunteers who truly make this program a success," said Kim Cella, Executive Director of CMT.