We have a Crush… a crush on Transit!
And we're calling local transit enthusiasts to help us show our Love for Transit on Feb. 11, 2016!
The 2nd Annual Transit Crush event offers daily transit commuters, occasional riders, and transit enthusiasts of all stripes the chance to unite in support of their love for transit – and to make a statement about the importance of transit in our region!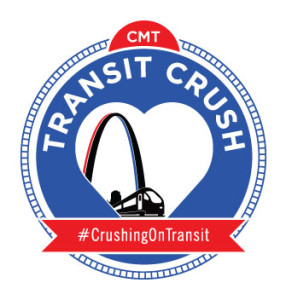 We invite you to meet us along the alignment on the evening of Feb. 11 to create a flash mob-style "crush" onboard the MetroLink trains during the evening commute. We'll wrap-up the night with a happy hour event at Eclipse restaurant near the Delmar MetroLink Station.
Throughout the evening, Crush participants will be encouraged to help flood social media with transit love by posting their Transit Crush selfies and participating in fun Social Media scavenger hunt challenges and tagging their Twitter, Facebook and Instagram posts with #CMTtransitcrush.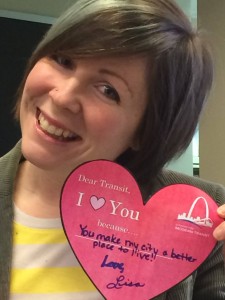 Participants are eligible to win great prizes, including a $500 gift certificate Distinctive Diamonds, several $50 gift certificates to Walter Knoll Florist, concert tickets to see Metric or Bullet for My Valentine, and more!
The first 100 Transit Crush participants will also receive a free event t-shirt – make sure to let us know your t-shirt size when you register.
Want to participate? Sign up for free here and get registered for a free event t-shirt and our fabulous Transit Crush prizes!
Joining the Transit Crush? Make sure you board at one of these times to get in on the fun.
(Stations highlighted in red are designated "meet-up" stations. At these stations, we'll have Metro ambassadors and CMT staff posted to help you find your way – and to help you complete some #CrushingOnTransit scavenger hunt challenges!)