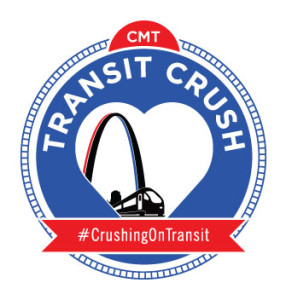 Love will be in the air along the MetroLink alignment on Feb. 11 as Citizens for Modern Transit (CMT), transit aficionados, and first time riders team up to host the 2016 Transit Crush event, designed to give transit enthusiasts the chance to unite in support of their love for the region's transit system. That evening from 4-6 p.m., transit riders are invited to meet at various spots along the MetroLink alignment to create a flash mob-style "crush" onboard the trains during the evening commute. Participants will be included in a 'transit love' scavenger hunt style competition as a part of the event. Those completing the challenge will be entered into a drawing to win a $500 gift certificate to Distinctive Diamonds, Walter Knoll gift certificates, concert tickets and more great prizes.
Prior to the ride, volunteers will be stationed at the various MetroLink stations distributing information on CMT's Guaranteed Ride Home program. The event will wrap-up with a happy hour party at Eclipse located in the Moonrise Hotel on Delmar.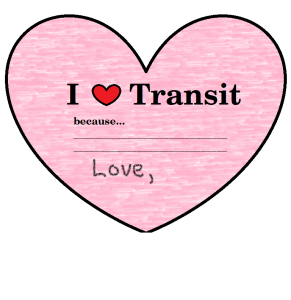 Throughout the evening, Crush participants will be encouraged to help "blow-up" social media with transit love by posting their Transit Crush selfies and tagging their Twitter, Facebook and Instagram posts with #crushingontransit.
"We are so excited to be teaming up to host this incredible event, which will give transit riders a fun and unique opportunity to show just how much love they have for transit," said Kim Cella, Executive Director of CMT. "We want riders to come out in droves so that we can pack the trains in support of MetroLink and transit use in the St. Louis region."
Participants will receive a special Transit Crush t-shirt. To register to volunteer, click here or call 314-231-7272, find the organization on Facebook or follow CMT on Twitter @CMT_STL.
#cmtcrushingontransit #transitway2go