Citizens for Modern Transit (CMT), the region's transit advocacy organization, recently celebrated the triumphs of individuals and organizations in the area who display exemplary commitment to furthering transit in the St. Louis region. During its 39th Annual Meeting on Sept. 15, CMT presented the 2023 Chairman's Award to Illinois Governor JB Pritzker and Missouri state senators Lincoln Hough and Brian Williams; the 2023 New Initiatives Award to AARP in St. Louis; and the 2023 Service Award to Dan O'Connor.
The 2023 Chairman's Award was given to Illinois Governor JB Pritzker, as well as Missouri state senators Lincoln Hough and Brian Williams for their roles in securing funding for transit in Missouri and Illinois.
Gov. Pritzker was recognized for his leadership and commitment to investing in the future of transit through the ReBuild Illinois statewide transit capital program, which to date, has provided more than $116 million in funding to help support crucial transit projects in St. Clair County. Those projects include the construction of a $13.5 million Public Safety Center at the Emerson Park Transit in East St. Louis, which got underway in January; work to upgrade St. Clair County Transit District's current fleet of Alternative Transportation System (ATS) vehicles by replacing them with electric models and installing charging stations; and plans to extend MetroLink in St. Clair County 5.2 miles from the existing Shiloh-Scott Transit Center to MidAmerica St. Louis Airport. Accepting the award on Gov. Pritzker's behalf was Illinois Secretary of Transportation Omar Osmond.
Sen. Hough, who represents District 30, part of Greene County in the Springfield, MOarea and Sen. Williams, who represents District 14 in St. Louis County, were recognized for their roles in ensuring historic levels of transit fundings were approved by the Missouri Legislature this past spring. With their support, $10 million in General Revenue and another $1.7 million from the State Transportation Fund were secured, totaling $11.7 million in transit funding from the state. This investment represents a 34% increase over 2022 and a more than 580% increase since 2021. Hough and Williams were both present and accepted the award together.
The 2023 New Initiatives Award was given to AARP in St. Louis, led by Community Outreach Director Sheila Holm, for their role in bringing to life the "Transit Stop Transformation" projects at the 5th & Missouri Transit Center in East St. Louis and the North Hanley Transit Center in St. Louis County this past year. Representing the fourth and fifth "Transit Stop Transformation" projects completed since 2020, the projects transformed expansive concrete areas at both transit centers into interactive spaces, boasting community themes, vibrant colors, seating, shading, lighting, greenery and elements of play that encourage community. Holm and AARP in St. Louis were instrumental in making each project come to life through their leadership, vision and financial and volunteer support. Thanks to their continued commitment, plans for a sixth project are currently underway.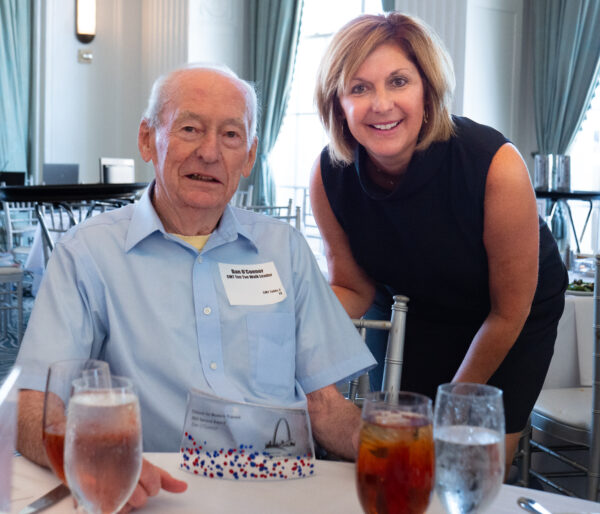 The 2023 Service Award was given to Dan O'Connor, who has spent 16 years volunteering as a walk leader with Ten Toe Express, an award-winning program that helps older adults and other interested individuals lead healthier lives by linking activity, sociability and exercise with the use of MetroLink and MetroBus. Since 2007, O'Connor has led almost 400 walks. His involvement has been priceless to the CMT organization, and he was in attendance to receive the award.