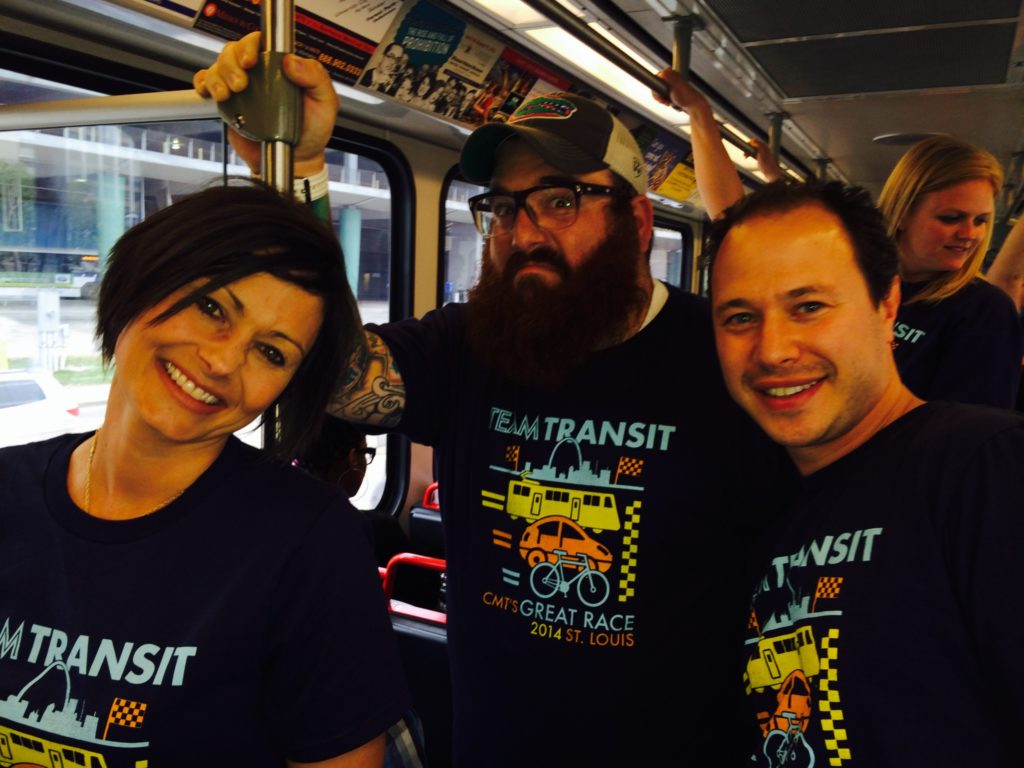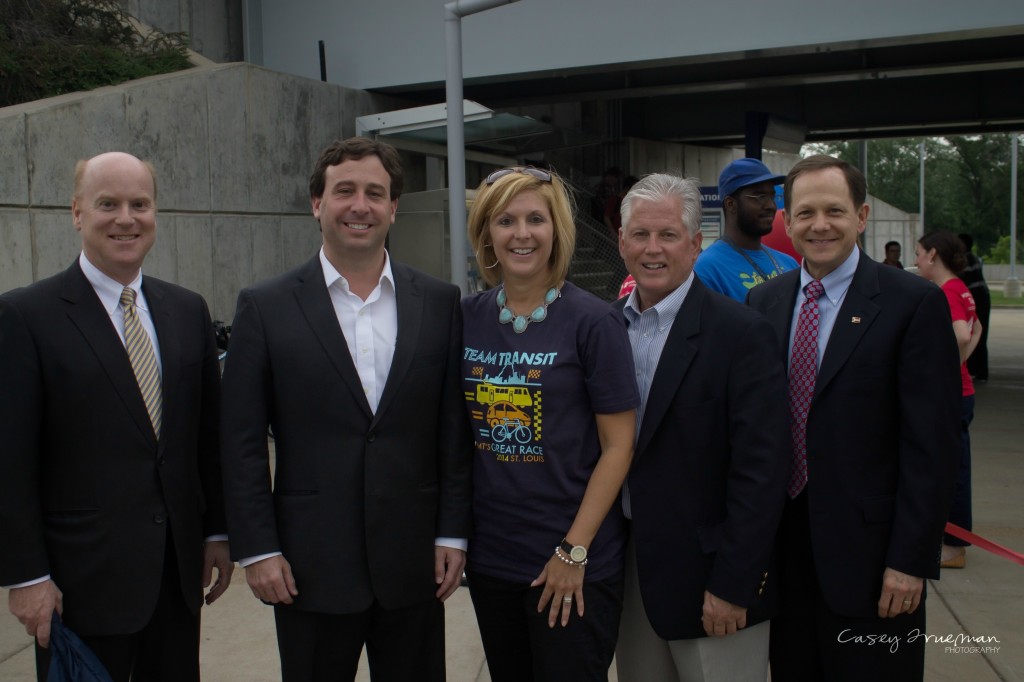 With local celebrities and media personalities from tv, radio and print dashing through the streets of St. Louis yesterday, CMT's Great Race hit the mark in demonstrating to the St. Louis community viable transportation options are available for the work commute.
Heidi Glaus of KSDK NewsChannel 5, KMOV News 4 Meteorologist Katie Horner, Angela Hutti of KTVI Fox 2 News, Todd Morgan of KHITS 96, Jean Ponzi of KDHX 88.1 FM and KTRS 550 AM, Riz and Tony Patrico from 105.7 The Point, Kevin the Intern of the Phillips & Company Morning Show on Y98, Jade Harrell from Majic 100.3, Don Corrigan of the Times Newspapers, Felizia Medina of St. Louis Magazine and Julie Cohen of Sauce Magazine; as well as City of St. Louis Mayor Francis Slay, St. Louis County Councilman Steve Stenger, St. Louis County Councilman Pat Dolan and representatives from Citizens for Modern Transit, Metro, Enterprise CarShare, RideFinders, Great Rivers Greenway, STL Style, Fortel's Pizza Den, the City of St. Louis, the St. Louis Regional Chamber and others were on hand to crown the winner of CMT's Great Race at the Finish Line Celebration/Metro Market last evening at the Shrewsbury Lansdowne MetroLink Station – Team CARSHARE.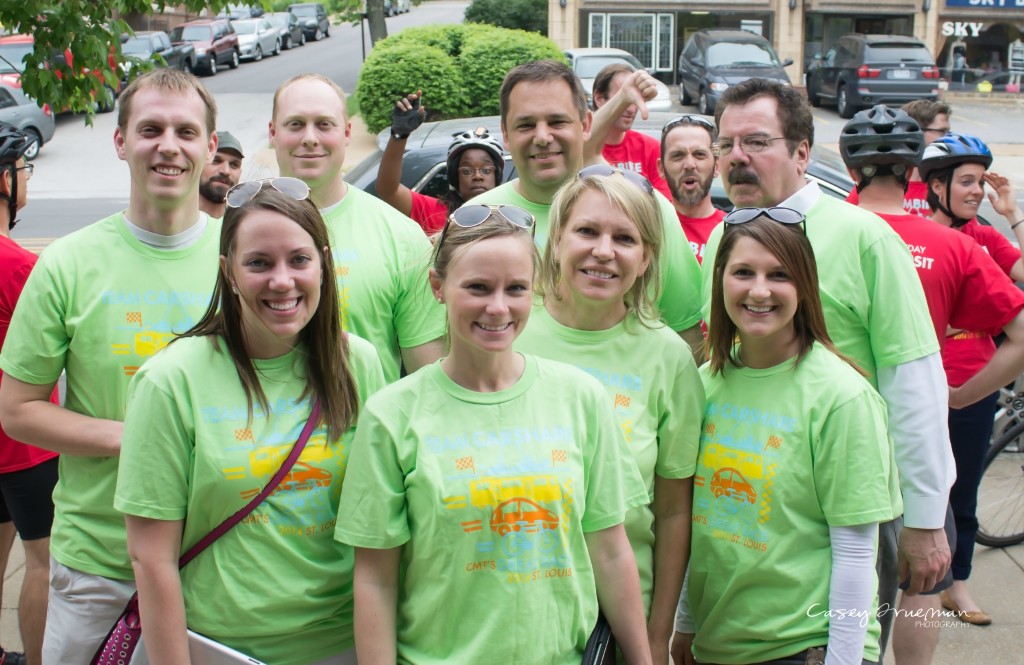 CMT's Great Race, a take -off of  CBS television hit "The Amazing Race," placed Team TRANSIT, Team BIKE, Team CARSHARE and Team CARPOOL in a head-to-head competition to see which alternative mode of transportation could travel from Clayton to Shrewsbury the fastest during the evening rush. Each team was comprised of a host of media personalities and other influentials. The race culminated with a Metro Market event, which served as a live visioning session showcasing what could be in terms of shopping, eateries and entertainment at this, and other MetroLink stations, if the community invested in transit-oriented development. It featured food trucks, retail, the MySci Investigation Station, a farmers market,  bike tune-up station; free bike helmet fittings; an upcycling station hosted by Perennial; information about alternative commuting options and recycling  and live music. This event also coincided with the official ribbon cutting of Great Rivers Greenway's River Des Peres Greenway Trail.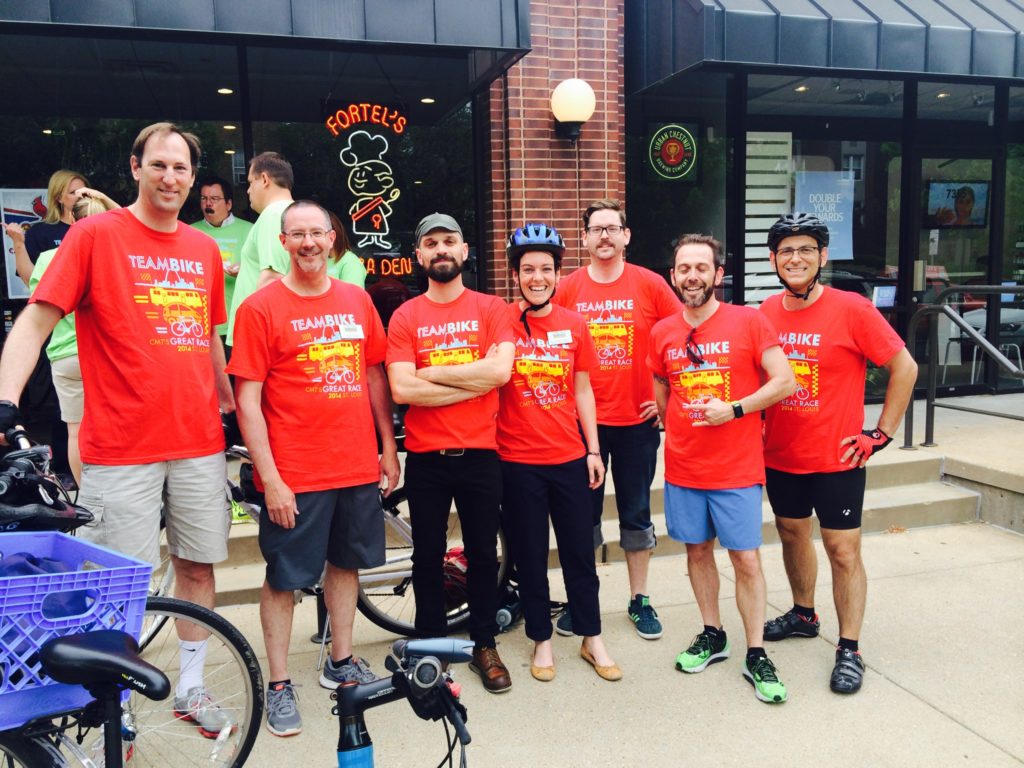 Mayor Slay, County Councilman Pat Dolan, St. Louis County Councilman Steve Stenger and Metro CEO John Nations along with CMT Executive Director Kim Cella awarded the winner – TEAM CARSHARE-  a trophy and this year's bragging rights.  TEAM Carshare arrived in 20 min and 14 seconds.   Team Transit a close second at 21 min and 12 seconds.  Team Bike arrive in 23 minutes and 30 seconds while Team Bike's Alderman Ogilvie arrived in 16:52.  Team Carpool arrived in 26 minutes and 56 seconds and
"The CMT Great Race is a great way for us to showcase St. Louis' viable transportation options through a fun, interactive competition. The buy-in from our local media personalities from competing stations takes the fun to a whole new level. They are the true super stars of this event as well as our sponsors helping to educate St. Louis on its options. Special thanks to all of them," said Kim Cella, executive director of CMT.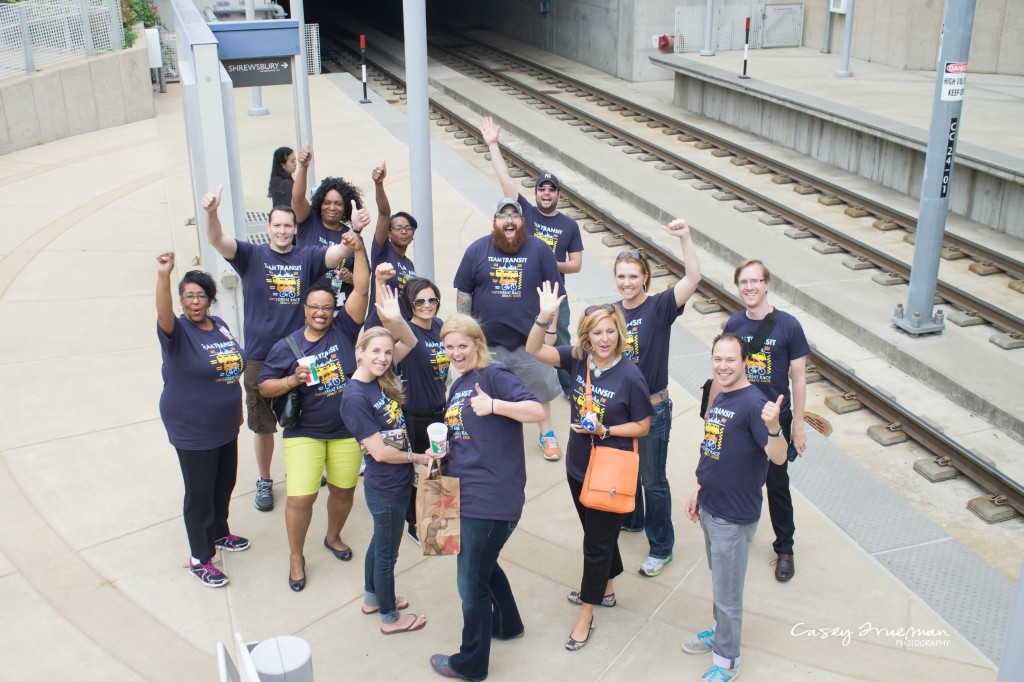 Special thanks to the sponsors of this event including Enterprise Carshare, Great Rivers Greenway, RideFinders, Metro, Missouri Foundation for Health, St. Clair County Transit District, Central States Bus Sales, STL-STYLE, and Fortel's Pizza Den.
To check out all the images from CMT's Great Race 2014, visit https://www.facebook.com/media/set/?set=a.736235073066621.1073741896.192040597486074&type=1