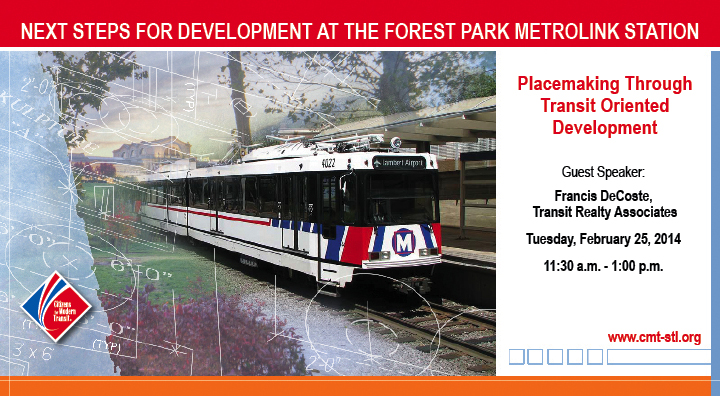 CMT is excited to welcome the 'Deal' Guy as he calls himself, Francis DeCoste, to St. Louis next week to focus on the community around the Forest Park MetroLink Station.
MetroLink opened in St. Louis in 1993, and unlike other cities, building around our public transit infrastructure has not gone as far as the region could hope.  The Forest Park MetroLink Station will be truly multi-modal in the near future– with the MetroLink red and blue lines providing service, several MetroBus routes serving the station, the future Loop Trolley, Great Rivers Greenway trail and more all providing access. Mr. DeCoste will examine the possibilities for development and possible financing incentives for the area.
Mr. DeCoste has over 30 years of experience in the real estate development industry. In his career, he has successfully negotiated and conducted due diligence  for site acquisitions,  performed economic feasibility analysis, coordinated site and building designs, presented to the public proposals for the  permitting  and approval of projects, obtained  both institutional and private financing,  and managed the sales and construction of retail, office, multi-family rental, and luxury condominium projects throughout the country.  As Chief Operating Officer with Transit Reality Associates, Mr. DeCoste is responsible for directing the daily operations of TRA and overseeing all staff as well as focusing on transit oriented development projects in the Boston and Chicago markets.
He is a regular presenter at the national Rail~Volution conference.   Below are some samples of his previous presentations. Still time to make a registration for this great event:
Railvolution Seaport Silver Line Presentation-Final