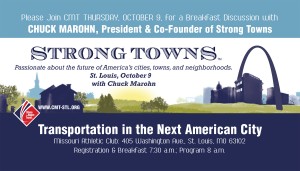 Please Join CMT for an upcoming Breakfast Discussion  with Chuck Marohn, "Transportation in the Next American City"
When: Thursday, October 9, 2014
Registration 7:30 am, Presentation 8:00 – 9:00 am
Where: Missouri Athletic Club, 405 Washington Avenue; Saint Louis, Missouri 63102
Tickets Cost: $15 CMT Members, $25 Non Members
Transportation in the Next American City
Investments in transportation have long been synonymous with economic growth and job creation. While this was often the case in the early days of highway building, that correlation is no longer guaranteed, especially at the local level. With road maintenance liabilities overwhelming federal, state and local budgets, America needs a more strategic approach to transportation, one that allows us to get more while spending less and living better. As our cities continue to evolve and modernize, such a transformed transportation system is possible. This presentation will challenge conventional thinking and chart a path to the next transportation revolution.
About Chuck Marohn:
Chuck Marohn, PE, AICP, is the President and Co-Founder of the non-profit, Strong Towns. His background as an engineer and planner working as a consultant for dozens of cities and towns across Minnesota gives him an intimate understanding of how land use and infrastructure projects get designed, funded and built.
About Strong Towns:
Strong Towns is a non-profit, non-partisan organization that helps America's towns achieve financial strength and resiliency.
They travel the nation to promote a complete understanding of the costs that are associa­ted with our communities' methods of growth, and they advocate to address those costs via productive changes in our pattern of development.