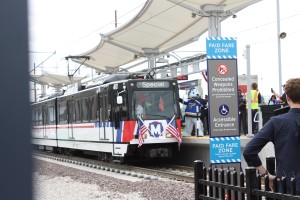 As CMT nears the end of its fiscal year on August 31, the CMT  Board of Directors adopted the 2019 Goals and Objectives at its August 24 Board of Directors meeting.  This coming year CMT will be focusing on the following issues to further its mission of support/advocacy for public transit:
Transit Ridership
Safety and Security of the System
CMT's long-term financial health
In FY19, CMT will be focusing on building community support for transit, rebuilding ridership on the system, and monitoring efforts of those who provide safety for the system. Achieving these goals will require both the active engagement of the Board, a commitment by the Board to support the expenditure of appropriate financial resources, and support of CMT's members and constituents.  Below is an outline of the key goal areas.
Level off existing decline in ridership through programming, education campaigns and grassroots advocacy
As the regional transit advocacy organization, the decline in ridership of more than 20% over the last several years and the continuing decline in 2018 on the system is a key area of focus for the organization.  CMT will be working with stakeholders, elected officials, and community groups on this issue for the next year.
Be an advocate/convener around public safety on transit
CMT has been working with area stakeholders for more than two years to call attention to security efforts on transit – specifically MetroLink. These efforts have been expanded to include members of the Transit Advisory Working Group in the discussion to improve the public's confidence in the safety and security of the system.
CMT Financial Stability
CMT will be working over the next year to diversify funding sources for the organization including memberships, sponsorships, grants and contract work.