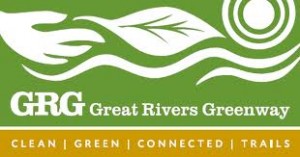 CMT was awarded a grant from Great Rivers Greenway for a project linking the Ten Toes Express, the MetroLink system, and the Great Rivers Greenway District.  The RFP called for projects that would improve quality of life throughout the region by developing a public system of interconnected greenways, trails, and parks.  To this end, CMT will design Ten Toes Walking Maps linking MetroLink Stations to GRG trails within 5 miles of the alignment.  These maps will be posted on the Ten Toes Express website, promoted through CMT's blog and social media accounts, and advertised on the Metro System.
"We are very excited to partner with Great Rivers Greenway to expand the Ten Toe Express program even further while at the same time linking public transit infrastructure with our walking and bicycling facilities available in the region," said Kim Cella, CMT Executive Director.
To learn more about GRG's efforts in the region, visit – http://www.greatriversgreenway.org/.
To view existing Ten Toes Express Walking Maps linking the MetroLink to regional amenities, visit –http://tentoes.cmt-stl.org/WalkingSchedule/TenToesWalkMaps/tabid/85/Default.aspx