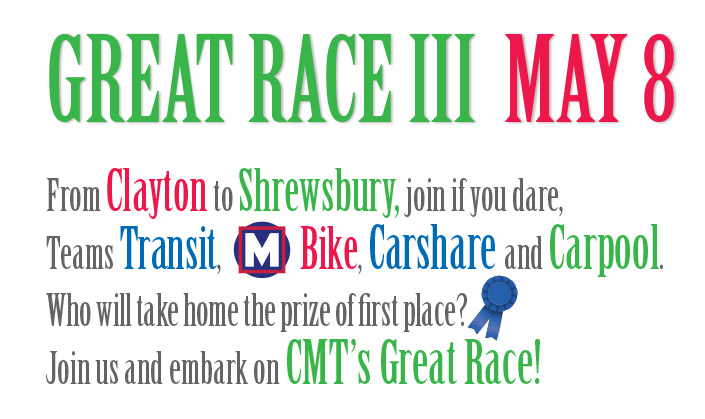 It's hard to believe the Great Race is just a little more than a month away. I hope you are all getting pumped for the excitement surrounding May 8. This year's race will start at the Fortels Pizza Den (7359 Forsyth Blvd., St. Louis, MO 63105) at 4:30 p.m. and culminate at approximately 5:30 p.m. at the Shrewsbury Lansdowne MetroLink Station (on Lansdowne Avenue at River Des Peres Blvd) with the Metro Market event, which will continue until 7 p.m.
We have gotten a lot of interest from the media and other influentials again this year! Below is a breakdown of the team allocations. Drum roll please …
Team CARSHARE
Webster Kirkwood Times editor-in-chief Don Corrigan
KMOV Ch. 4 reporter Diana Zoga
Representatives from Enterprise
Team BIKE
KHITS 96 morning show co-host and midday personality Todd Morgan
Mayor Slay's scheduler Josh Weise
St. Louis Regional Chamber's Eric Schneider
St. Louis City Alderman Scott Ogilvie
Washington University's Alternative Transportation Coordinator Andy Heaslet
A representative from Great Rivers Greenway
Team CARPOOL
KDHX 88.1 FM and KTRS 550 AM show host Jean Ponzi
St. Louis Magazine's Felizia Medina
Fox 2 News meteorologist Angela Hutti
Representatives from RideFinders
Team TRANSIT
NewsChannel 5 reporter Heidi Glaus
Sauce Magazine managing editor Julie Cohen
105.7 The Point show hosts Riz and Tony Patrico
Y98 Phillips & Company Morning Show host Kevin "The Intern"
Magic 100.3 show host Jade Harrell
CMT Transit Collective Justin Chick
A representative from Metro
A representative from STL Style
Representatives from Citizens for Modern Transit
There may be a few more additions in the next couple of weeks and we will keep you posted!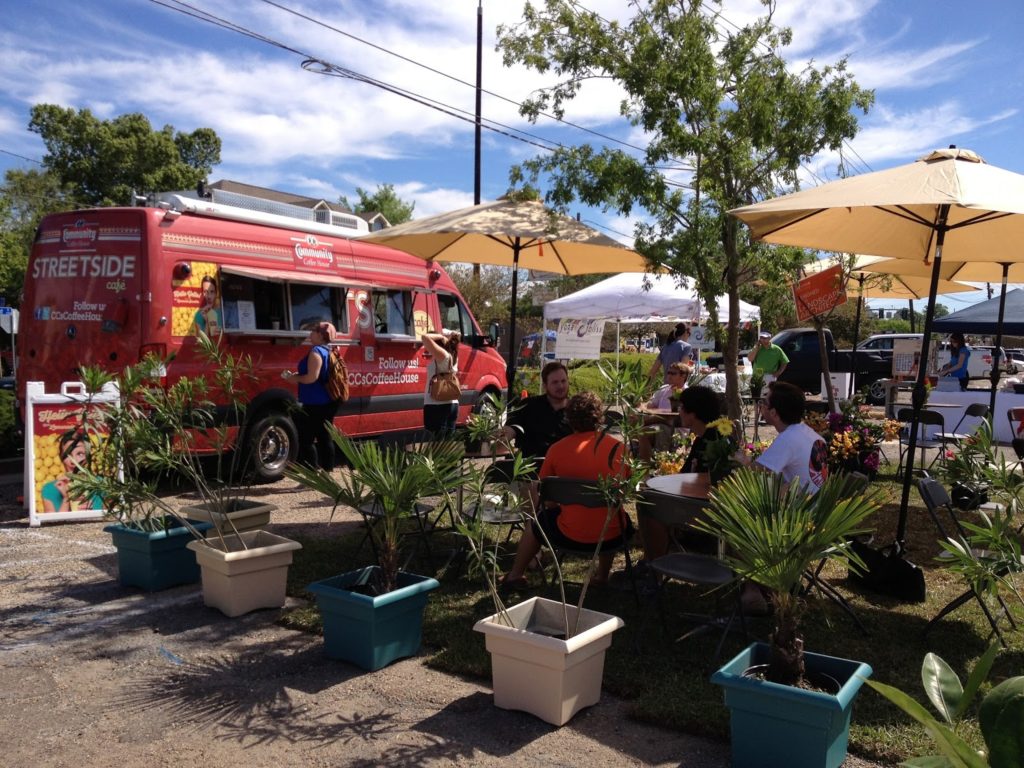 Please consider joining in the fun at the starting line or the Finish Line Celebration at the Shrewsbury MetroLink Station for the Metro MArket which begins at 5 p.m. Enjoy the Metro Market event, which will feature three food trucks including Taco Truck STL, 2 girls 4 wheels and destination desserts, the retail truck Rack + Clutch, MySci Investigation Station, a Fresh Market, The Rita Rosamond Band, giveaways from 105.7 The Point and more. This event will also coincide with the official ribbon cutting of Great Rivers Greenway's River des Peres Greenway Trail on the River des Peres Greenway.