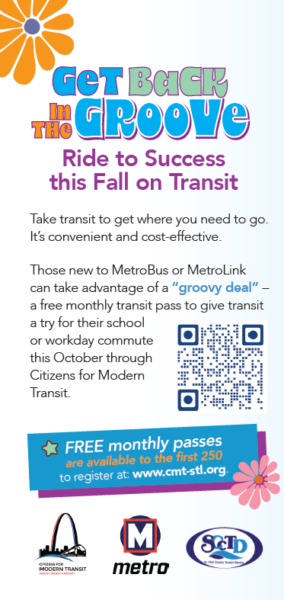 As students get ready to head back to school and the workforce settles into more routine schedules, Citizens for Modern Transit (CMT), Metro Transit and St. Clair County Transit District (SCCTD) are encouraging people to get "Back in the Groove" by taking transit to get where they need to go. Those who are new to the public transit system can take advantage of a groovy deal – a free monthly transit pass to give transit a try for their school or workday commute throughout the month of October. Passes are available to the first 250 individuals who register between August 15 and September 15. Registration can be completed below.
"As we get back into a more regular routine in the fall, it is a great time to give transit a try," commented Kim Cella, executive director of Citizens for Modern Transit. "Plus, gas prices continue to fluctuate. This, coupled with parking and vehicle wear and tear, can make the expenses associated with driving quickly add up. Public transit is a convenient and cost-effective way to travel to work and school. According to the American Public Transit Association, a two-person household can save as much as $10,000 annually by downsizing to one car and using public transit. The free monthly pass promotion allows new riders to try out the system and see just how easy it is to utilize."
Street teams will be downtown and near the Cortex Innovation Center, and BJC HealthCare during the morning commute on Tuesday, Aug. 29, from 6:30 a.m. to 8:30 a.m. They will be talking to commuters about the benefits of transit and how riders can register to receive a free monthly pass throughout October.
"Get Back in the Groove" is part of the partnering organizations' ongoing efforts to interact with riders, strengthen relationships and reinforce their collective commitment to a safe, comfortable, customer-focused transit experience.
Questions?  Reach out to CMT at info@cmt-stl.org or 314-231-7272.
*Registration is now closed
Rules and Regulations
CMT reserves the right to deny any application for any reason. In addition, any incomplete registrations will not be processed.
This program is only available to individuals who do not currently take transit for their work or school commutes. Limit of 2 individual registrants per household address; no other registrants per house/apartment allowed during this time period. If for any reason, CMT suspects abuse of the program, all registrations will be denied.
Fraudulent registrations resulting in abuse of the program, including resale of passes, may result in civil and criminal penalties.