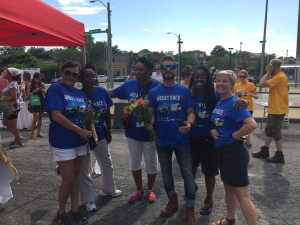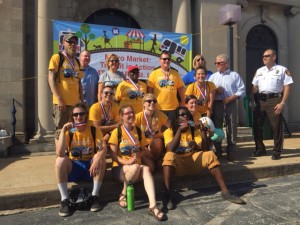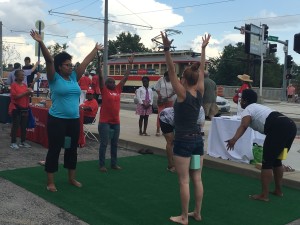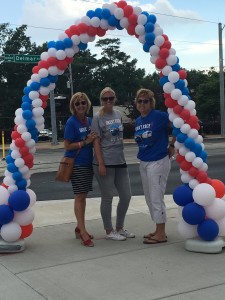 Citizens for Modern Transit and AARP St. Louis temporarily transformed the vacant Historic Wabash Station, located at 6005 Delmar Blvd., on June 14 into an active space connecting people to products, services and green spaces. The free, pop-up Metro Market helped showcase how areas around transit stations can become focal points for activity.
"Last year, CMT, AARP and community stakeholders completed walk audits of three key MetroLink stations and identified short and long-term recommendations for improving functionality and making them safer and more vibrant destinations," commented Kimberly Cella, executive director of Citizens for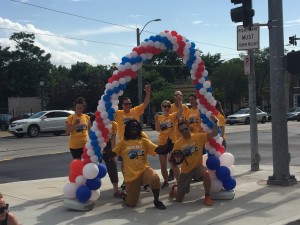 Modern Transit. "An action plan is being executed and a series of improvements have been completed, while others are currently underway. This event was a key step in the process as it provided stakeholders, riders and the general public a peek at what is possible."
The community event featured "2 Girls, 4 Wheels" and "Destination Desserts" food trucks, produce from the Community Action Agency of St. Louis, fresh flowers from Flower Hill Farm, musical entertainment by Steph Plant, access to adoptable dogs from the Animal Protection Association of Missouri, bike tune-up from Big Shark Bicycle Company, yoga sessions led by Shanti Yoga, chalk artistry by Chalk Riot STL and the opportunity for the general public climb aboard one of the the new Loop Trolley heritage vehicles. There was also a caricature artist, an oversized Jenga game, an interactive art station, MetroBus photo frame for taking commemorative pictures, a café area and more.
"We brought the concept of space activation to life so people of all ages could better visualize the potential that exists to create safer, more livable communities around transit stations," added Sheila Holm, community outreach director for AARP St. Louis. "Attendees were also able to share their thoughts on the experience and the types of enhancements they would like to see."
The Metro Market also served as the finish line for the 2017 Great Race: Transit in Action. This competition played off the CBS television hit "The Amazing Race" to raise awareness about the many viable transportation options available in our region. Team MetroLink, Team MetroBus, Team CarShare and Team Bike raced, using their respective modes of transportation, and completed a series of challenges along the way, to see who could get from their specified starting points to the Historic Wabash Station the fastest during the evening rush. Each team was comprised of local media personalities and representatives who have a vested interest in the transportation options represented.
The pop-up event and Great Race competition was made possible thanks to a variety of partners and sponsors, including Enterprise CarShare, St. Louis Regional Chamber, ATU Local 788, CBB Transportation Engineers + Planners, Metro, Great Rivers Greenway, Forest Park Forever and Washington University.