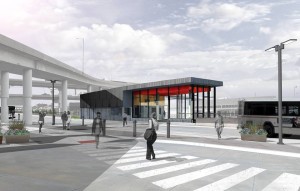 As construction wraps on the new Civic Center Transit Center, Metro's new transit hub in downtown St. Louis, Metro will host three events to celebrate the completion of the project and the opening of the new center.
For those wanting to learn more about the new transit center, an informational meeting will be held at City Hall on July 26, 2017 from 11:30 a.m. – 1:30 p.m. The public is invited to stop by to learn about the customer-friendly features of the new transit center which include an indoor waiting area and restrooms. Information will also be available regarding bus routes that will run in and out of the Civic Center Transit Center.
On August 10, 2017 at 10:00 a.m. Metro will host a ribbon cutting ceremony and press conference for regional leaders, transit leaders, and the public to introduce the new Civic Center Transit Center, however, the most anticipated event will happen the following afternoon when Metro hosts a public open house at the new Civic Center Transit Center.
The Open House will be held August 11, 2017 from 11:30 a.m.- 1:30 p.m. and will feature St. Louis favorites, Fredbird and Louie. The event will also have food trucks, live music, and the opportunity to paint a Metro bus! In honor of the event, and to make it easier for people to get to the event, Metro will have a Ride Free Transit Zone in downtown St. Louis that day from 11:00 a.m. – 2:00 p.m. The #99 Downtown Trolley will be free and those who board MetroLink between the Laclede's Landing Station and the Union Station MetroLink Station will also ride free. However, MetroLink riders travelling outside of the downtown stations will still need to have valid fare to take MetroLink.
Bus service will resume at Civic Center on Monday, August 14, 2017. The new transit center will help connect all 23 bus routes that run through downtown with MetroLink and Call-A-Ride service and the new indoor waiting area will provide passengers the opportunity to purchase concessions and utilize restrooms while waiting for their bus.