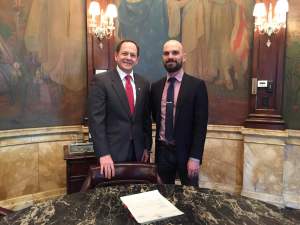 February 25, 2015:  Building on a complete streets ordinance signed in 2010, Mayor Francis Slay signed a revision to the policy that aims to improve planning, design, and maintenance of transportation, road, sidewalk, and trail networks.  The new policy will involve more City agencies and a range of specialties so that streets are designed, built, and maintained for users of any ability.  The Mayor believes this policy will provide a more proactive approach to making City streets safer.
The City's multi-department approach is intended to ensure safer access and connections between neighborhoods and destinations.  It is also intended to help educate more residents and leaders of the best options available.
A Complete Streets steering committee will be formed and it will include members from the Department of Streets, Planning and Urban Design, Board of Public Service, Health Department, Department of Parks, Recreation and Forestry, and the Office on the Disabled.  First on the agenda will be to identify areas that are most deficient or dangerous from the City Pedestrian Safety Action Plan and Strategic Highway Safety Strategic Plan with the goal of providing a more data-driven approach to where improvements are needed most.
Complimenting this effort, the Mayor has also signed on to the United States Department of Transportation Mayor's Challenge for Safer People, Safer Streets.  This revised Complete Streets policy is the first of the Mayor's activities.  Other challenge items include:
 Identifying and addressing barriers to make streets safe and convenient for all road users including people of all ages and abilities and those using assistive devices;
Gathering and tracking biking and walking data;
Using designs that are appropriate to the context of the street and its uses;
Taking advantage of opportunities to create and complete ped-bike networks through maintenance;
Improving walking and biking safety laws and regulations; and
Educating and enforce proper road use behavior by all.