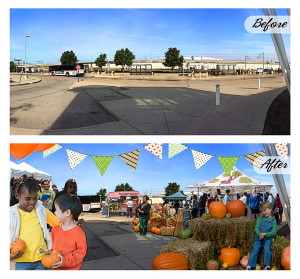 Residents will be Encouraged to Provide Feedback on What They Would Like to See at the Site
Citizens for Modern Transit (CMT) and AARP in St. Louis have announced plans to host a pop-up Metro Market © on Wednesday, Oct. 11, from 4 to 6 p.m. at the North Hanley MetroLink Station (4398 Hanley Road, 63134). The event will temporarily transform a portion of the expansive parking lot into an active space that connects people to products, services and green spaces; showcasing how areas around transit stations can become focal points for activity. This event is free, and community members of all ages are encouraged to attend.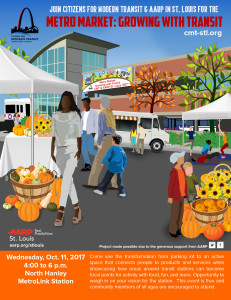 Last year, CMT, AARP and community stakeholders completed walk audits of three key MetroLink stations, including the one at North Hanley. Short and long-term recommendations for improving the functionality of the stations were identified, as well as means for making them safer and more vibrant destinations. An action plan is currently being executed, and a series of improvements have been completed with others currently underway. The next step is to give stakeholders, riders and the general public a peek at what is possible by way of the pop-up Metro Market © on Oct. 11. A main area of focus for organizers is getting community feedback."
"This event is designed to give community members a sneak peek at what the area around this MetroLink station could look like," commented Kim Cella, executive director of Citizens for Modern Transit. "But, it doesn't stop there. We want it to serve as catalyst for obtaining community input. We want to find out what matters to local residents, determine what they want to see come to life. And, we are going to have a number of creative means for allowing them to do so."
The St. Louis County Department of Planning will be facilitating an activity that allows residents to help create an oversized, three dimensional, Monopoly game board-type model illustrating what they would like to see onsite. There will be a video-taped, Self-Expression Stop that enables those interested to share their vision for the area through poetry, rapping, dancing or a monolog. Chalk and an oversized banner will also be made available for those interested in drawing or writing down their thoughts. For inspiration, several murals, created by Brock Seals, a local artist and student at the University of Missouri-St. Louis, will be on display.
The event will also feature the"2 Girls, 4 Wheels" and "STL Kettle Corn" food trucks, Tai Chi mini-sessions, educational resources on how to build a healthy plate from the St. Louis County Department of Health, live music from WFUN 95.5 FM R&B Old School, a St. Louis County Police Department recruiting station, the opportunity to meet and interact with adoptable animal through the St. Louis County Animal Shelter, a cooking demonstration, free apples, an appearance by MoDOT's Barrel Bob and information from the Central County Precinct Neighborhood Policing Unit.
The brand new onsite Link Market (LINK) will also be open for business providing access to healthy, affordable food options that can be purchased through any form of payment, including EBT and the EBT DoubleBucks programs. Plus, area residents will be able to learn more about the new community library box being considered for this site. This free, onsite "library," offered by the St. Louis Promise Zone in partnership with the St. Louis County Library's Recycled Reads program, gives surplus library materials another life by circulating them throughout the community. No library card is required to borrow the materials, and there are no fines or due dates. Individuals are asked to return the items whenever they're finished. A total of 10 Promise Zone Community Libraries are set to be installed this year as a means to increase literacy in North St. Louis County.
"We are bringing the concept of space activation to life so people of all ages will be better able to visualize the potential that exists to create safer, more livable communities around transit stations," added Sheila Holm, community outreach director for AARP St. Louis. "We are also hoping it will prompt those in attendance to share their thoughts on the experience and the types of enhancements they would like to see."
The pop-up Metro Market is being made possible thanks to funding received through the AARP Community Challenge Grant program, which invested $780,000 in 89 different community projects nationwide to help create change and improve the quality of life for people of all ages. Other event partners include the University of Missouri-St. Louis, the St. Louis County Department of Planning, the St. Louis County Department of Health, the Missouri Department of Transportation, St. Louis County Police, Bi-State Development/Metro Transit, Theis Farm and Greenhouses and the ATU Local 788.