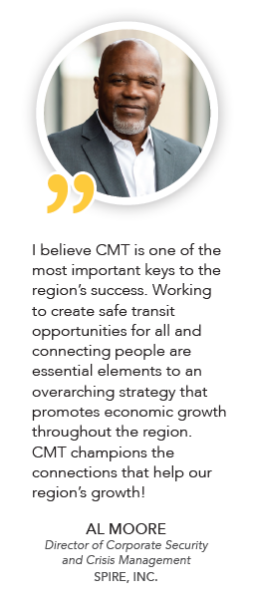 As the region's transit advocacy organization, Citizens for Modern Transit (CMT) works to champion, challenge and encourage the advancement of public transit access to better connect communities, promote equity and drive economic growth. This year CMT is celebrating 40 years of transit advocacy, and we invite you to join us as a sponsor for a year of celebrations.
In recognition of this exciting four-decade milestone, we are focusing on "The Why" behind public transit use and the need for accessibility, expansion, funding and our advocacy efforts.  We will be hosting several events that will be included in the 40th Anniversary sponsorship:
40th Anniversary Celebration on June 20, 2024 at Windows on Kiener in Downtown St. Louis
40th CMT Annual Meeting & Luncheon on Sept. 13, 2024 at the Marriott Grand Hotel in Downtown St. Louis
Increased number of CMT Lecture Series events.
For CMT, "the why" is understanding that transit is the sole means by which many can access jobs, healthcare and necessities – and that it has a more than $3.6 billion economic impact on our state. So, whether people choose to utilize transit or not, everyone in the region needs to understand the significant role it plays in helping the St. Louis region grow.
Please consider joining us for this important milestone in transit advocacy and help celebrate the Why of public transit in the St. Louis region. Sponsorship is available online.  Sponsorship opportunities will be open through March 1, 2024 and will be highlighted as they come onboard.
Be a part of the action. Join us.
Click here to register as a CMT 40th Anniversary Sponsor!
D'Andre Braddix                                                                                                  Kimberly M. Cella
Chair, CMT Board of Directors                                                                          Executive Director, CMT