During its October 13 meeting, the Bi-State Board Operations Committee recommended to move a possible contract with Siemens Mobility, Inc. for new high-floor light rail vehicles (LRVs) forward to the full Board of Commissioners for approval.
Bi-State Development intends to procure new high-floor light rail vehicles, capable of servicing the existing high platforms, for use on all parts of the Bi-State Development system. The solicitation for the cars was issued on September 1, 2022 and advertised in BSD's iSupplier Portal, the Agency's web-based communication tool, structured to allow interested bidders/proposers open access to view, communicate, and submit bids/proposals on active solicitations.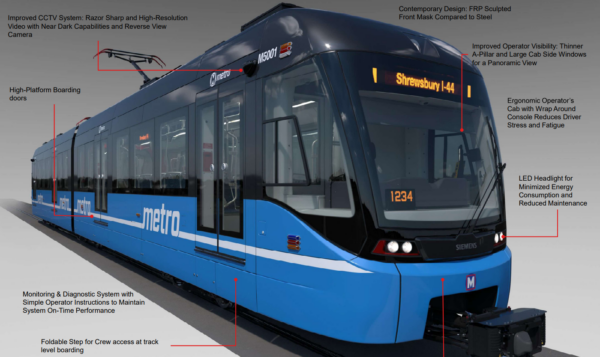 The proposed LRV currently operates in demanding climate conditions in North America and is well suited to the unique and demanding conditions of the St. Louis region. The proposed LRV would operate seamlessly in the existing alignment and facility infrastructure.
In August, U.S. Transportation Secretary Pete Buttigieg announced more than $223 million in funding for Metro Transit to replace aging light rail cars and repair damage from flooding.   $27 million will be used to help repair damage sustained during last summer's historic flooding. The additional $196 million will fund 48 new light rail cars.  LRV vehicles have a lifespan of about 25 years. Metro Transit is operating about 30 cars which have been in service for 30 years.