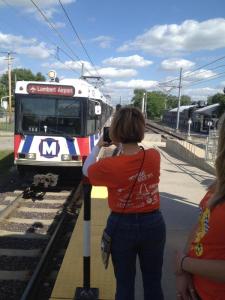 The Bi-State Development Board approved a three-year operating and capital budget during its meeting on  Friday. The budget approved includes no increase in operational expenses for Fiscal Year (FY) 2017 from the last fiscal year. The budget outlines operational expenses before depreciation of $323.2 million for FY 2017, and projected operational expenses before depreciation of $332.6 million for FY 2018 and $339.7 million for FY 2019. The FY 2017 budget does not include a fare increase for the Metro transit system.
The approved budget allocates resources to operate Bi-State Development; the Metro transit system; operations at the Gateway Arch and the Gateway Arch Riverfront Attractions; St. Louis Downtown Airport; as well as the organization's newest enterprises, the Bi-State Development Research Institute and the region's freight district; and Arts In Transit, the non-profit entity that supports public art and community engagement programs.
BSD also outlined a three-year capital budget totaling $665.1 million, with $633.9 million allocated to Metro, $15.2 million to the Gateway Arch and $15.9 million to St. Louis Downtown Airport. Major capital expenditures planned for this period include expansion of the Civic Center Transit Center, rehabilitation of the tunnel below Union Station, construction of a new MetroLink station at Boyle Avenue and the extension of the Central West End MetroLink platform. The replacement of the motor generator sets for the Gateway Arch trams and development of a new Tucker Theatre experience at the Gateway Arch; and construction of new taxiways and other infrastructure improvements at St. Louis Downtown Airport are also in the three-year capital budget.