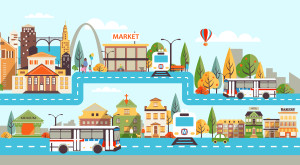 On Thursday, May 4, we will host the CMT & AARP Great Race and Metro Market 2017. This event will bring to life the Finish Line Destination area around the Delmar MetroLink Station – which will be one of the most multi-modal sites in the region.
The race will integrate transit, biking, and carsharing/Zimride as the teams race to the final destination. This approach will help to raise awareness about the viable alternative transportation options that exist and demonstrate the importance of activating the space around our transit stations.
More specifically, the competition will place four teams against one another. The teams will start at the same time, and converge at the Forest Park Station where teams will have to complete several tasks as a part of the Metro Market– very similar to the Amazing Race on CBS. We are currently in the midst of contacting media personalities, local dignitaries and representatives from organizations to take part in this year's event.
Sponsorships are available at the Gold Level ($5,000), Silver Level ($3,000) and Bronze Level ($1,000). Incentives vary according to the level of commitment and are outlined in the attached form.
Please consider becoming an event sponsor. Sponsorships must be confirmed prior to Feb. 22, 2017, to ensure inclusion in the event's marketing materials.
Please consider becoming an event sponsor.   Sponsor today online!