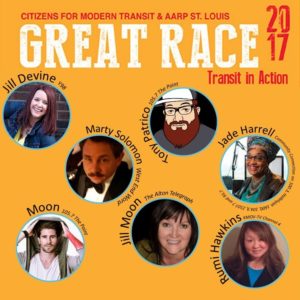 The date is set, the teams are selected and St. Louis media is on board to help promote some of the most viable transportation options offered in the region through this year's Great Race hosted by CMT and AARP St. Louis. Join us next Wednesday afternoon, June 14 at the historic Wabash Station on Delmar Blvd. to welcome the Great Race teams at the finish line!
Great Race 2017 Teams are as follows:
Team CarShare
Tony Patrico, co-host of The Rizzuto Show on 105.7 The Point

Moon, Co-host of The Rizzuto Show on 105.7 The Point, will be a part of Team MetroBus

Representatives from Enterprise CarShare
Team MetroLink
Rumi Hawkins, KMOV-TV Ch. 4
Jill Devine, Y-98 on-air personality
Marty Solomon, West End Word
Representatives from CMT, Metro and CBB
Team MetroBus
Moon, co-host of The Rizzuto Show on 105.7 The Point
Jade Harrell, host of Community Connections on 103.3, Hallelujah 1600, 104.9, Z107.7 and 93.7
Jill Moon, lifestyle editor and assistant content editor of The (Alton) Telegraph
Representatives from CMT, Metro and Union Communion Ministries
Team Bike
Representatives from Great Rivers Greenway, CBB, the City of St. Louis and Forest Park Forever
Team Metrolink, Team MetroBus, Team CarShare and Team Bike will race, using their respective modes of transportation, to see who gets from their specified starting points to the finish line the fastest during the evening rush.  Similar to the CBS television hit "The Amazing Race," teams will be asked to complete a series of challenges along the way.
The finish line will be part of a pop-up Metro Market at the Historic Wabash Station, located at 6005 Delmar Blvd., just steps away from the Delmar MetroLink station. This event is designed to temporarily transform the vacant site into an active space that connects people to products, services and green spaces, showcasing how areas around transit stations can become focal points for activity. It is free and open to the public. Area residents are encouraged to stop by anytime between 4 and 6:30 p.m. Race participants are expected to cross the finish line around 5 p.m. An awards ceremony will follow shortly thereafter.