To help underscore the benefits of public transit and encourage consistent use among the St. Louis area's college students, faculty and staff, Citizens for Modern Transit, Metro Transit and St. Clair County Transit District recently held a weeklong "College Transit Challenge" initiative with partnering institutions St. Louis Community College, Saint Louis University, Southwestern Illinois College, University of Missouri–St. Louis and Washington University in St. Louis. From Friday, March 3, to Friday, March 10, nearly 300 individuals affiliated with these respective schools used their Metro U-Pass to take transit as often as they could. A total of 480 transit trips were tracked via mobile texting, and the school with the most participation and the winner of bragging rights for the 2023 "College Transit Challenge" is Washington University in St. Louis.
"Congratulations to Wash U and all the colleges and universities that participated in this challenge – it was a fun," stated Kimberly Cella, executive director of Citizens for Modern Transit. "The leaderboard shifted throughout the week, with UMSL and Wash U battling for the top spot and STLCC, SLU and SWIC competing in a tight race for third."
An opportunity for bonus points brought participants to Sugarfire Smoke House's downtown location, just steps away from the Convention Center MetroLink Station. UMSL students, faculty and staff took the lion's share of the bonus points for their school, and UMSL's Environmental Adventure Organization student group came away with the $250 prize for bringing the most attendees. Throughout the weeklong challenge, participants were entered to win a selection of prizes including St. Louis Symphony and St. Louis Cardinals tickets.
"The challenge succeeded at what we set out to do – get student, faculty and staff to utilize the region's safe, integrated public transit system, along with their Metro U-passes to get to and from campus, work, doctor appointments, grocery stores, area attractions, nightlife or wherever else they needed or wanted to go," Cella added.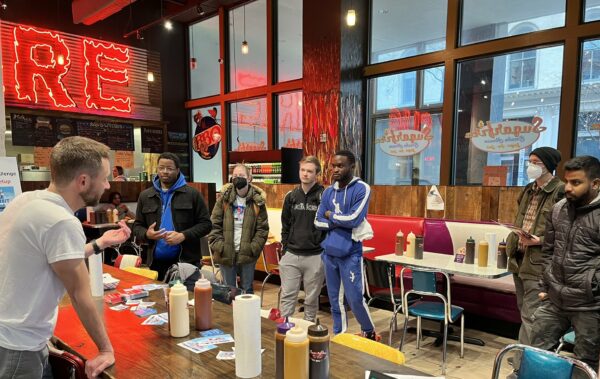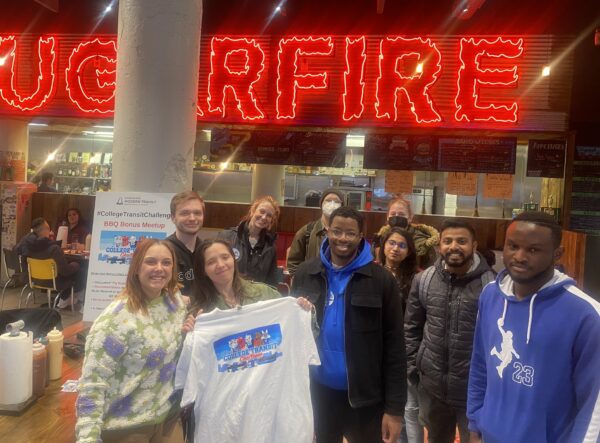 And the winner is…
Congratulations to the students, faculty and staff at Washington University in St. Louis!
Thank you to all of the challenge participants for making this effort a success. Make sure to visit our resource page to learn more about the Metro U-Pass programs at each of the five area schools. Don't see your school listed? Reach out to your school and Metro Transit for more information about implementing a U-Pass program where you are.
Want to invest in transit and help St. Louis thrive?  Become a member of CMT today.