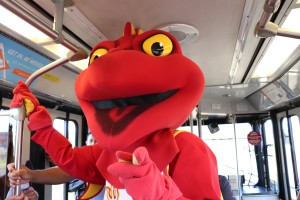 After a day of checking in on Instagram, Facebook and Twitter, bragging rights for the first-ever College Transit Challenge were awarded to the University of Missouri-St.  Louis! UMSL's students and staff captured the honor by having  the most participation in the challenge, sharing more online posts and pics highlighting their transit use than any other college or university participating in the challenge.
"Congrats to UMSL for their community-wide support of the College Transit Challenge with posts from both students and staff on all social media platforms, events on campus throughout the day to support transit usage and representation by Chancellor George, the Triton and students at the kick-off event," said Kim Cella, executive director of CMT. "Their enthusiasm was great to see, but it wouldn't have been a challenge without some competition, so we also thank  all the universities that partnered with CMT, Metro Transit and St. Clair County Transit District to highlight the benefits of the St. Louis transit system for the academic commute and to access all that our region has to offer."
Citizens for Modern Transit, Metro Transit, St. Clair County Transit District and the Bureau of Transit Police teamed up with St. Louis Community College, Saint Louis University, Southwestern Illinois College, University of Missouri–St. Louis, and Washington University in St. Louis to host the first-ever College Transit Challenge on Aug. 28. The kick-off event yesterday morning had all five schools in attendance with their fearless mascots at the Grand MetroLink Station.  For the remainder of the day, those affiliated with the respective schools could help their college or university win by taking MetroBus or MetroLink and checking in via Facebook, Instagram or Twitter – with a status update or photo with #iTakeTransit, along with mentioning their school. (ex. #iTakeTransit @UMSL). As the school with the most ridership during the challenge, UMSL gets the bragging rights and will be awarded a MetroLink Train Trophy at the CMT Annual Meeting.
As a part of the events, all College Transit Challenge participants were entered in a prize drawing for St. Louis Cardinals tickets and more.  Congrats to our 2019 Prize Drawing Winners.
Winner #1: Stephanie Batgirl Campbell (Facebook)
Winner #2: Exyirus Hadley-Lockett (Instagram)
Winner #3: Spooky Wilson (Twitter)