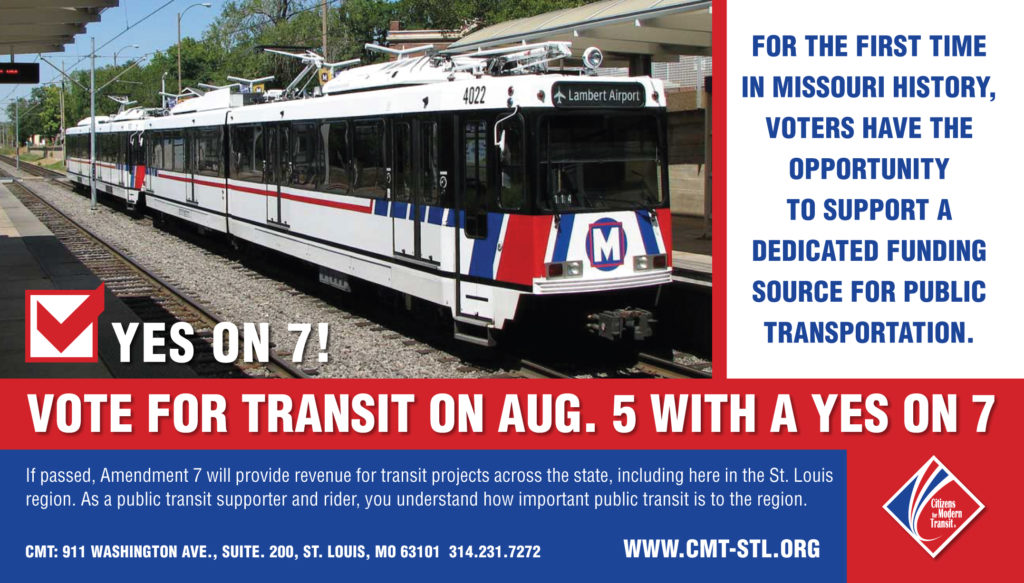 For the first time in Missouri's history, there is a proposed State constitutional amendment which will provide dedicated state funding for public transit.  Right now, each year, public transit advocates and providers of transit fight to preserve a little more than $1 million in funding for more than 30 transit providers in the state.
Missouri's transit supporters and riders deserve to have more of their tax revenue used for public transportation. On August 5, Missouri voters will have the chance to fix this inequality.  We can help support Missouri's transit and transportation needs, including bicycling, walking, bus and rail service.
If Amendment 7 passes, three-fourths of a one percent increase in Missouri's sales tax will be dedicated to improving each region's transportation projects,  including TRANSIT. Amendment 7 will allow communities to direct their tax-payer funds to local priorities. In many localities, this added revenue will provide increased  options such as public transit for Missourians who don't drive or don't have access to a car.   Here are some of the potential projects that would be funded here in our community:
New MetroLink station added to current system
Funding towards the St Louis Streetcar system
Bus rapid transit from downtown St. Louis to I-270 along West Florissant and Natural Bridge Road
Bus rapid transit from downtown to Chesterfield via I-64
Light rail expansion studies – St. Louis City and County
Infrastructure improvements at bus stops in St. Louis City and County
MetroLink station  upgrades at both the Delmar and  Forest Park-DeBaliviere stations
Enhanced passenger rail service to Kirkwood Amtrak station
Amendment 7's list of priority projects includes more than $800 million in transit and Amtrak projects over the next ten years when combined with matching funds from regional sources.  This is a game changer for transit in Missouri, and many organizations such as the MO Public Transit Association, the St. Louis Regional Chamber, the Regional Business Council, and Civic Progress have all endorsed Amendment 7. Studies indicate strong support among various age groups for public transit, especially people aged 18-35, older adults, and immigrant populations.
In addition, additional transit options increase access for our lower income households and disabled citizens. Funds dedicated to the projects identified in Amendment 7 cannot be diverted by current or future politicians to non-transportation projects.  The St. Louis region's dedicated revenue will be distributed to the MO Department of Transportation and to Metro for support of identified transit needs.  Metro will be responsible for transit projects and MoDOT will provide oversight and ensure that all regional projects are completed within the 10- year timeframe.
Goods including groceries, prescriptions drugs and utilities are exempt from this tax. In addition, this tax would allow Missouri to significantly increase funding to public transit in rural and urban areas, an option that is not allowed under the current Missouri gas tax.
Citizens for Modern Transit endorses Amendment 7 for public transit. It provides a dedicated source of funding for our area's transit needs, and on August 5, we urge all supporters of public transportation to vote Yes on Amendment 7.