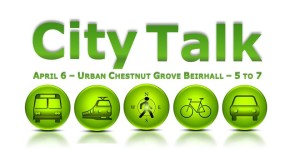 Alderman Roddy is hosting a "City Talk" on April 6 from 5 to 7 p.m. at Urban Chestnut to talk transit and other alternative transportation choices for the 17th Ward.    Mark Johnston from Civitas will publically present his findings from a study  on how people get to and around Cortex and the Medical Center Complex.  Design on the Boyle Street Station project is set to begin soon, and Metro anticipates construction will occur in 2017, with an opening late 2017 – 2018. 
This event is billed as a community event giving residents, businesses, organizations, and city development enthusiasts a chance to meet, enjoy a complimentary drink, and learn about transporation within their neighborhoods.
Featuring Mark Johnson, founding principal of Civitas Inc., presenting the findings of their extensive 17th Ward mobility study. This City Talk offers a unique chance to learn about and discuss the transportation conditions, alternatives, and opportunites within the 17th Ward.
More info is available on the Facebook event page.
Hosted by 17th Ward Alderman Joe Roddy
For more info call 314-602-0503 or email roddycommittee@gmail.com