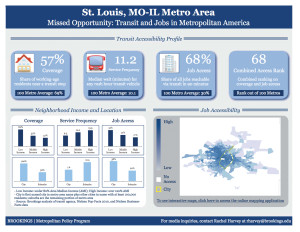 The Brookings Institute reports that the St. Louis Metro Area is missing opportunities when it comes to connecting Transit and Jobs.  They make this claim based on a few key findings they released in a handy infographic attached here.  I will bullet the discoveries below too:
57% of working-age residents live near a transit stop.
11.2 minutes is the median wait for any rush hour transit vehicle.
68% of all jobs are reachable by transit within 90 minutes.
22.3% of the entire Metro area population can reach a typical job in under 90 minutes via transit.
St. Louis ranks 68th on a list of 100 Metro areas ranked on transit coverage and job access.
According to these stats and well known on the ground, we have some work to do when it comes to connecting people to jobs via transit in the St. Louis area.
Story source:  http://www.brookings.edu/~/media/Research/Files/Papers/2012/7/transit%20labor%20tomer/pdf/St_Louis.pdf