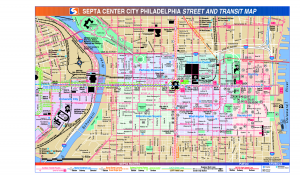 Philadelphia has caught the transit bug.  A new report called "How Philadelphia Gets to Work" finds that 70.5% of Philadelphians get to work using transit.  The report, released by the Center City District and Central Philadelphia Development Corporation, was prepared to inform strategic investments in transportation infrastructure based on the understanding that: "Sustained job and residential growth requires focused place management, competitive tax policies, the attraction of entrepreneurial talent and investment capital, smart local governance, workforce quality, and strategic investments in transportation infrastructure."
We learned of this report in a PLANPHILLY article that covered a public event where developers were asked to discuss how shifting transportation trends have affected their development decision making.
Two comments highlighted below really tell the transit story:
Commenting on the shift of income from rental properties from the suburbs to the city, Jerry Sweeney, President and CEO of Brandywine Realty Trust states "We really bet on the theory that access to infrastructure is an incredible asset to, not just creating sense of place, but to creating long term value," and the shifting numbers suggest they bet right.
Then, when looking to purchase office buildings in the DC area, Sweeney says, "There is no question that properties that have access to more than one form of transportation will perform better through peaks and valleys in economic cycles."  The other developers at the event, echoed his sentiments and discussed how recent properties have, very intentionally, been built at bus or train stops.
And the benefits of developing around transit just continue from there.  It's a good read St. Louis.  Strategic planning around transit, investing in the infrastructure and leveraging multi modal transportation options can significantly impact the economic, social, and entrepreneurial success of a region.  What can we do to make that happen in STL?
Fisher's article in PLANPHILLY: http://www.philly.com/philly/classifieds/real_estate/Developers_discuss_transit_trends_impact_on_development.html
The "How Philadelphia Gets to Work" report: http://centercityphila.org/docs/CCR13_transportation.pdf