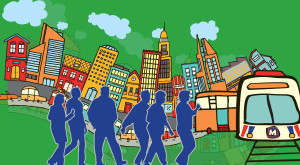 CMT will kick off the Spring 2017 Session of the Ten Toe Express with a special walk in Grand Center Arts District – A Grand View of Grand Center.
Explore what Grand Center has to offer as we roam from Strauss Park at Washington and Grand to the Locust Business District to the Contemporary Art Museum and the Pulitzer. We'll check out Robert Bullivant's Gallery, the new .ZACK Theatre space, and Arts Academy Plaza, as well.
Walking tour will be led by Matthew Kerns, Director of Community Engagement and Programming at Grand Center.
For those interested, finish up the morning with a Thursday Morning Coffee Concert series performance by the Laurence Hobgood Trio at Jazz at the Bistro, adjacent to our last stop on the tour. For more info about the Laurence Hobgood Trio, check out www.jazzstl.org/experience/artists/laurence-hobgood-trio/ or call the Box Office at 314-571-6000.
CMT Ten Toe Express is  presented in partnership with AARP ST. Louis.
Meeting time: 8:35 a.m.
Where to meet CMT: Grand MetroLink Station
Length of Walk: 1.5 miles, approximately 1.5 hours long
Walk Capacity: 25 people
April 6th, 2017 8:45 AM   through   12:00 PM