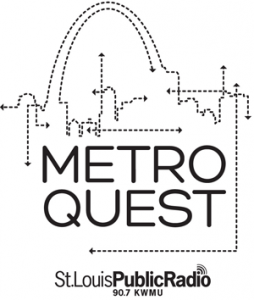 CMT has co-sponsored NPR's MetroQuest on Saturday, September 21, 2013, and invites CMT's young transit professionals to join our team for a day of fun and challenges while exploring our city in St. Louis Public Radio's combination scavenger hunt, pub crawl, and trivia contest. Travel the course by foot or ride the rails St. Louis style on the MetroLink, and discover all that makes St. Louis great!
Registration on the 21st starts at 10:30 am and the event will run from 11:00 to 5:15 ish and MetroQuest activities include:
• "Only in St. Louis" Scavenger Hunt
• Trivia, Games & Challenges at each stop
• Food and Drink Specials at Participating Venues
• Prizes Awarded at the Final Check-In.
All participants will receive a MetroQuest t-shirt, MetroLink day pass, course map, MetroLink schedule, a wristband granting access to food and drink specials at course venues, and one free drink voucher.  CMT participants will also receive a special CMT transit bag to complete your getup.
Space on the team is LIMITED and will be awarded to members on a first come first serve basis.  If you are not a member yet, consider joining today!
Please request your space by COB on Wednesday, September 18th by e-mailing Lenora Fisher at lfisher@cmt-stl.org.
Read more about the activity here – http://stlpublicradio.org/metroquest/.