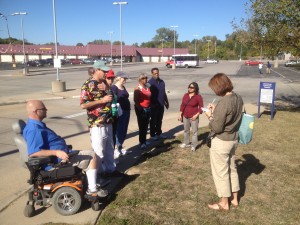 The Rock Road Ten Toes Express group performed a walk audit of the Rock Road MetroLink Station and surrounding community on Sunday, October 13th, 2013.  This audit served as a follow up assessment of a Walk Audit held for regional stakeholders in 2012.  The 2013 audit, led by Julie Padberg White with FPA Group, took the Ten Toes group throughout the neighborhood and helped these community residents document and think critically about walking conditions in the community.
The intention was to seek their input to help further changes the community needs.  By engaging more residents in such assessments, we strive to equip them to be more familiar with circumstances pedestrians face when walking and using transit, and to inform them of what should be so that they can vote, speak, and participate in municipal decisions that could affect the changes needed.
Please find the Pagedale Follow Up Summary here and use this report as a tool to engage in any civic conversations about improving the community to help make it a safer place for pedestrians and transit riders.