CMT recently teamed up with the St. Louis Bike-Share Working Group and assisted in the planning and execution of two public visioning sessions held during the National Association of City Transportation Officials (NACTO) Micromobility Conference at T-Rex in downtown St. Louis on April 29-30, 2019.
Events included a visioning of what could be rather than empty parking spaces.  A parklet was set up at DeBaliviere and Delmar Blvd.  The parklet was created inside the parking spot, demonstrating a  calming solution to create a safe space for a road adjacent parklets.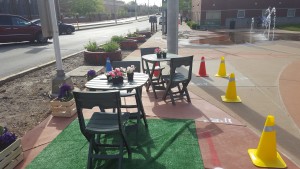 Community members and NACTO conference participants attended in large numbers, and were enthusiastic about participating in a micromobility survey.  The surveys gathered input on how to spend revenue from the St. Louis Micromobility Fund, estimated to collect $40,000 to $80,000 annually. A second event brought the visioning of a parklet inside City Hall on the main staircase.  "Improving bicycle and pedestrian infrastructure as a means to enhance and provide better access to the public transit system is key in the St. Louis market," said Mallory Box, CMT program manager and member of the Bikeshare Working Group.