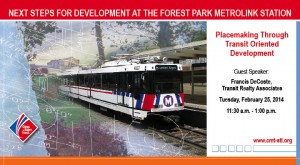 Please join CMT for "Placemaking Through Transit Oriented Development," a lunch presentation by Francis DeCoste, C.O.O. of Transit Realty Associates in Boston on Tuesday, February 25 from 11:30 am – 1:00 pm at the St. Louis Regional Chamber.  Find out how St. Louis moves its numerous TOD studies and plans to the next level.
Mr. DeCoste is a national Transit Oriented Development expert and will be focusing on the Forest Park MetroLink Station and the surrounding area including the latest TOD  Study just complete by the City of St. Louis.  The Forest Park MetroLink Stations is at the crossroads of the Red and Blue lines, a future connection point for the Loop Trolley, a connection point along the Great Rivers Greenway Trail along DeBaliviere and more.  With a public and private development assessment of the area around the station, he will help address questions pertinent to many of St. Louis' MetroLink Stations – What makes this development plan feasible to developers – both for-profit and nonprofit?  How should St. Louis calculate value?  How much affordable housing is affordable from the developer's point of view?  How do you reach a go/no-go decision? 
Tuesday, February 25, 2014
St. Louis Regional Chamber; 13th Floor, One Metropolitan Square, St. Louis, MO 63102
11:30 am – 1:00 pm
Seating is limited.  Registrations are due by February 20, 2014
Registration is now closed.
Look for our upcoming event on the Report to the Community on the Study for the CORTEX Station on March 27.
Please contact CMT at 314-231-7272 or info@cmt-stl.org with any questions.  We hope to see you there!
Special thanks to BLA and the St. Louis Regional Chamber for sponsoring this event.