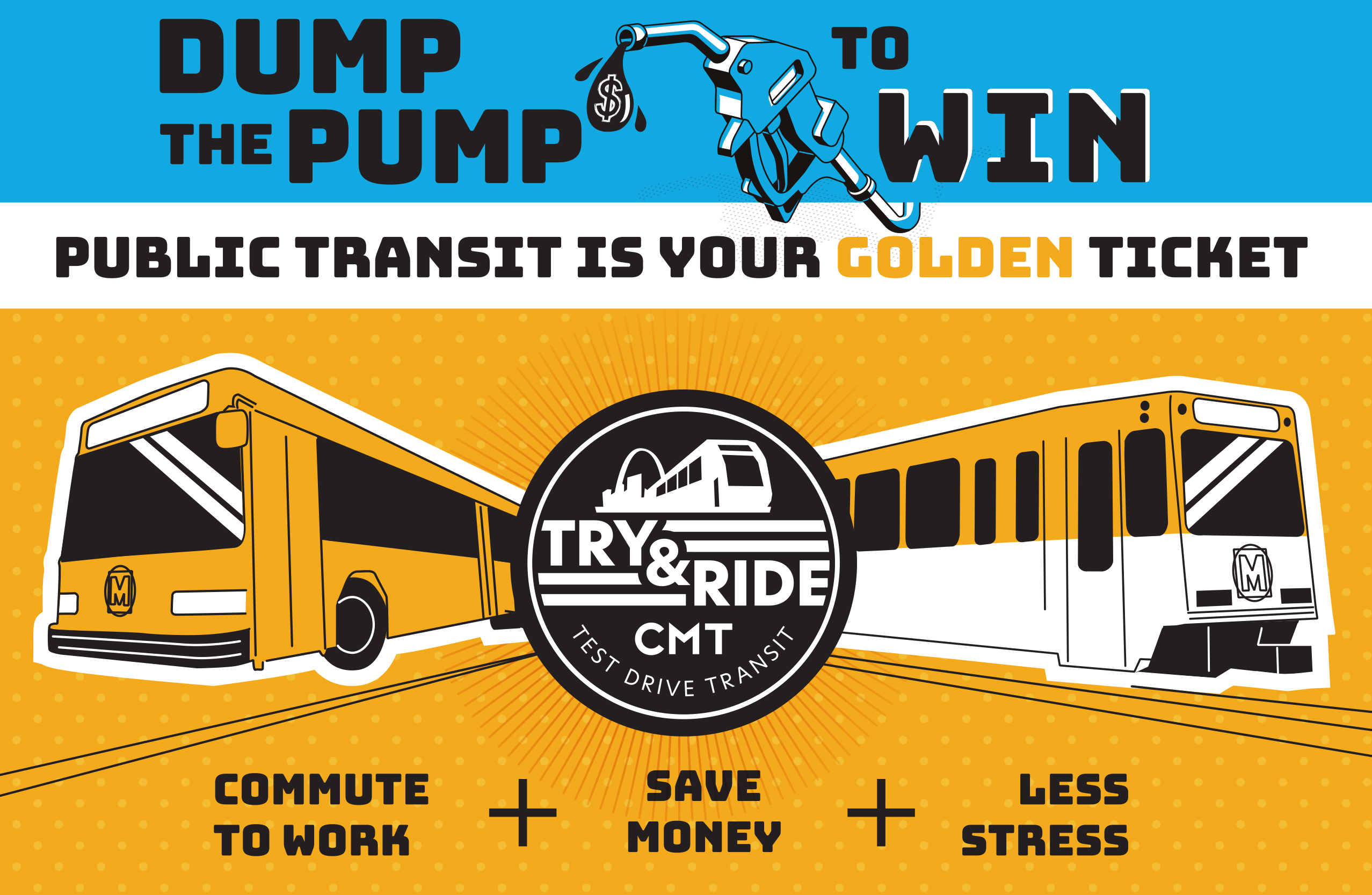 Public transit is the region's "golden ticket" to a safe, more cost-effective and hassle-free way for St. Louisans to get where they need to go. To help reinforce this message, Citizens for Modern Transit (CMT), Metro Transit and St. Clair County Transit District (SCCTD) are encouraging area commuters to give transit a try on Thursday, June 15, which is National Dump the Pump Day. Those who take transit that day will witness the benefits of this viable commuting option and be eligible to win prizes.
Nearly 100 branded envelopes touting "Dump the Pump to Win. Public Transit is your Golden Ticket." will be hidden on MetroLink, MetroBuses, Metro Call-A-Ride and SCCTD's Flyer Service vehicles, as well as at Metro Transit Centers on both sides of the river. Each will have a prize enclosed, as well as information about the many benefits of taking transit.
Those who find a "Golden Ticket" inside an envelope will have captured one of the grand prizes, including a $100 gift card to Amazon, one year's worth of free transit, four St. Louis Riverboat Cruise tickets, and two tickets to the St. Louis Cardinals game against the Washington Nationals on July 15. Other prizes range from free daily and monthly fare passes to gift cards to establishments accessible via the MetroLink alignment.
Transit ambassadors will also be at the Shrewsbury-Lansdowne I-44, Clayton, Brentwood I-64, Maplewood, Belleville, Fairview Heights and Emerson Park Transit Centers from 7 to 8:30 a.m. on June 15 handing out PAYDAY candy bars with a QR code that allows commuters to calculate the cost savings associated with taking public transit.
"Gas, parking prices, vehicle maintenance and car insurance are costly," commented Kimberly Cella, executive director of Citizen for Modern Transit. "According to the American Public Transit Association, a two-person household can save as much as $10,000 annually by downsizing to one car and using public transit. This campaign is designed to help St. Louisans better understand these and the many other benefits of public transit and its ability to get them where they need to go. Transit can be your own personal payday each day"
New to transit?
CMT's Try & Ride Program provides new riders, who are unfamiliar with the transit system, with complimentary transit tickets for one month, giving riders time to test and learn the system.  Learn more about the Try & Ride Program here and Dump the Pump on June 15.