TEN TOES EXPRESS WALKING PROGRAM
Targeted toward seniors and welcome to all, the Ten Toes Express program links walking with public transit to explore St. Louis, resulting in a healthier, more active lifestyle. More than 7,000 participants to date and it's a great way to learn how to access your community through "new" modes of transportation – your own two feet, the bus and MetroLink!
Tapping Into Transit is a series of events designed to engage young, urban professionals in transit-related discussions, developments, and solutions. We seek to connect community leaders, businesses, interested parties and the region's residents with information that will help make St. Louis more interconnected with alternative public transit solutions.  Search our blog using "Tapping Into Transit" to see a list of these events.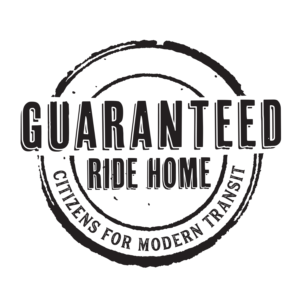 The Guaranteed Ride Home Program is an incentive for commuters to travel to work by MetroLink, MetroBus, bicycling, or walking rather than driving alone. It allows employees to take transit/bicycle while providing them a "safety net," an assurance they can get home and not be left at work if a situation arises.  This program provides immediate transportation in case of a personal emergency, sickness or unscheduled overtime.
CMT provides regional forums for Transit Oriented Development (TOD) education and advocacy, bringing nationally recognized leaders to the community and informing residents about transit possibilities.